Licorice Pizza Piles on Delicious Performances
Licorice Pizza is a delicious slice from the hands of a maestro.
Writer-director movie powerhouse Paul Thomas Anderson (Magnolia, Boogie Nights) serves up slices of heartwarming scenes in the lives of two dreamers in 1970s California. 
Fifteen-year-old Gary Valentine (played by Cooper Hoffman) who lives with his mother and younger brother, takes on more jobs than fingers as the film chronicles on his way to, well… 
We see Gary hustling, growing and maturing in the San Fernando Valley. He moves from being an actor to waterbed salesman to pinball kingpin, always on the hunt for the next fad or trend that will bring him and his ragtag band of business partners cash. However, if there is one thing that Gary is looking for above all else, it's someone to love. 
Meet Alana Kane (played by Alana Haim, of the rock group, Haim). Alana is a 20-something spirit living with her parents and band of older sisters who all work for her father. Alana is the black sheep in the family and she is constantly trying to fix or set her life on the right path that will lead to some unknown goal.
Gary and Alana meet at the beginning, and due to Gary's constant badgering – and endless charisma – the two strike up a friendship. Then they go into business together, starting with Gary's acting and an appearance on a late-night show that Alana flew with him to appear. Then when the acting wanes, it's waterbeds. Yes, Gary and Alana get into Fat Bernie's waterbeds with a crew of 15-year-old friends, causing trouble and raising an impressive amount of money through their business. 
Of course, just when things seem like they couldn't get any better, the pizza goes up in flames. 
After a summer of hustling culminates in a fight, Gary and Alana break up their friendship and business partnership. Alana pursues politics. Gary takes his turn at becoming a pinball wizard. True to the nature of pinballs, Gary and and Alana collide in an embrace to light up the screen.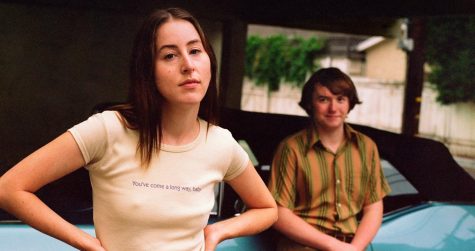 The film is truly a wonderful balance of comedy and of heartfelt drama.
In Licorice Pizza, the movie star cameos are the toppings. 
Benny Safdie, the co-director of Uncut Gems, plays mayoral candidate Joel Wachs, Sean Penn as William Holden, Bradley Cooper as Jon Peters, Jerry Frick as a restaurant owner, Leonardo DiCaprio's father as a waterbed salesman, and even John C. Reilly as Frankenstein. 
Like a brick-oven beauty, everyone seemed to be at their best in a film mixed, kneaded and spread with direction so mature, controlled and smart, you know it was prepared by a maestro. 
Visually, the cinematography was beautiful with Licorice Pizza largely shot on film in the anamorphic format for rich colorful and well-composited images. The editing set the pace that kept the story engaging and funny. 
Then there is the writing, which is excellent. It is what is to be expected of Paul Thomas Anderson (PTA) on this project. From comedy to drama, both blended seamlessly, in a combination of smart and fun. 
It's no wonder that maestro's latest creation has been nominated for Best Picture at the Academy Awards. Make it a priority to get this slice of Licorice Pizza as soon as you can.