Let's Bring A New Sport to Marian: Laser Tag!
No, seriously. Let's Do It.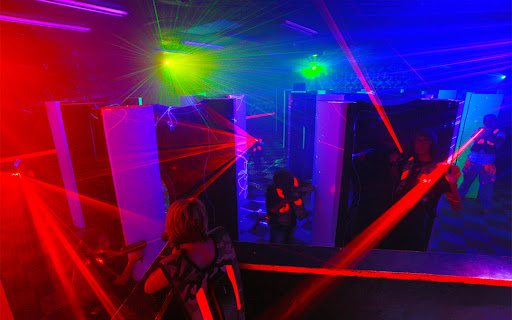 Consider this laser tag, a game and sport adored by all. Now think of school disliked and slept on by most.
Luckily here at Marian Catholic, we get a lot of breaks throughout the week with community period and Emmaus, but it can get repetitive with the same activities every week.
Why not add and engage in an activity that everyone and their cat's dog can enjoy?
By this, I mean the game of laser tag.
Brought up by the brilliant, but not as brilliant as me Jayden Downs, laser tag is an implemental phenomenon that would catch the eyes of many, from the very obvious lasers or the smart tactics that come with it. Some arcades or party places have a dedicated laser tag arena.
Of course, the game itself has come to a slow halt over the years due to a virus that has spread itself around the world, but it can be revived here with an official citing to the club. 
Much of how some games/sports are played Laser tag could be split up into teams. Like how volleyball is held during community period laser tag could take place in any big and dark area.
There can be teachers watching over as refs and timeouts, anything to make the game safe and fair for a Catholic high school. Of course, there would be more rules and regulations, but this is a proposal for an idea.
There are some aspects of laser tag schools may not like, but in the end, people come out having fun and not thinking about the bad aspects of it. You can go through life only thinking of the bad things, you'll crumble trying to conceal the good aspects of it. We would never have milk if we never squeezed large, dangerous looking animals. Like how some places can't afford a swimming pool even while raking in a ton of money each year, that shouldn't be Marian.
Laser tag is affordable, fun, traceable, easily referred, and overall, a never forgettable experience.
If you're in on the idea of a Laser tag:
Sign here if you think Marian should start a laser tag club.