"SIX" sends Spirits high on Spirit Night
Divorce. Decapitation. Death.
Marriage can be messy, yet melodic.
Marian Catholic students traveled to downtown Chicago April 13 to watch "SIX: The Musical" for a recent Spirit Night.
Before "SIX," the group dined at Pizano's, enjoying authentic Chicago-style pizza and especially indulging in the music produced by the jukebox. Delightfully, students danced and ate to their favorite tunes of the past.
After the delectable meal, it was finally time to see "SIX"!  Excitement brewed while walking to the theater, seeing the bright sign, glimmering in purple and gold magnificence.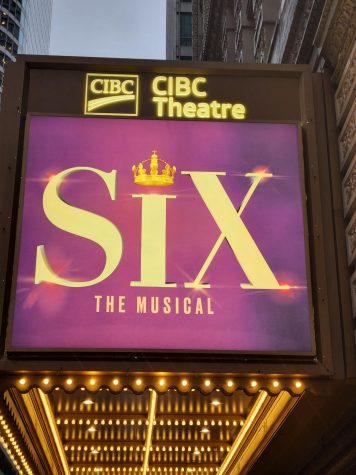 From the wonderful view in the balcony, the group enthusiastically watched as the six Queens each individually shared the trials and tribulations they endured as the wife of King Henry VIII. 
As a musical, the show did not disappoint. Throughout the musical, queens Catherine of Aragon, Anne Boleyn, Jane Seymour, Anna of Cleves, Katherine Howard, and Catherine Parr performed songs describing their experiences as royalty. 
The show, and the trip as a whole, won over our Marian audience. 
"Going to see Six downtown was such a fun experience. That performance had some of the best vocals I have ever heard in a musical, and the energy throughout the entire theater was palpable," said Marian student Marcus Bobbitt. "The band was also excellent and a big part of the reason the songs were so great."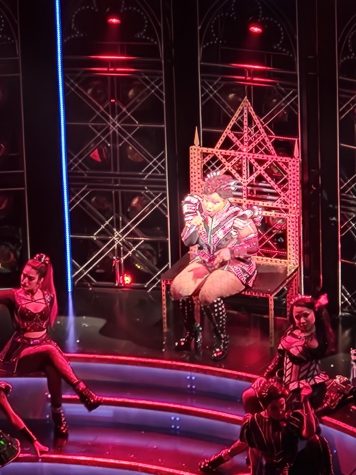 Not only was the show informative, but the musical numbers themselves were amazing. With emotional songs like, "Heart of Stone," "All You Wanna Do," and "I Don't Need Your Love," and slightly comical numbers such as, "Don't Lose Your Head," which details the story behind the beheading of Anne Boleyn, the composition and writing of the show was utterly flawless.
"It was so much fun to dance to all the songs with my friends," Bobbitt said. "The show didn't have much to offer plot-wise, but it was still a funny, charismatic, tragic, heartfelt story that I enjoyed thoroughly. 
Overall, "SIX: The Musical" is definitely a must watch! Future Spirit Nights here at Marian Catholic will have a lot to try and beat in terms of the experience.