Spartan Seniors Earn Awards
Kevin Beukema received the Christian Service Award, now called the Dominican Veritas Award, when he graduated from Marian in 1997.  On November 8, 2003, Kevin was killed in a tragic car accident caused by a drunken driver.  Three other Marian graduates were in the car with Kevin.  Ryan Brothers and Michelle Salin were also killed.  Matt Salin was seriously and permanently injured.
In remembrance of Kevin, the Beukema family sponsors the Dominican Veritas Award.  This is the highest non-academic award given by Marian Catholic.  It is presented to students who live out the Dominican values of Prayer, Preaching, Community, and Study here at Marian and in the community.  These seniors have truly strived to preach the truth in word and action.
Nineteen students were nominated by faculty members for this award. 
Dominican Veritas Award
Isaiah Beamon and Roisin Walsh
Doug Damon Award
The Doug Damon Award is given in memory of Doug Damon, a 1972 graduate of Marian Catholic, who was killed in a work-related accident.  The award is given to a senior athlete who shows the same love of sports and dedication to others that Doug did.  Tony Damon, Doug's son, is a 1998 graduate of Marian Catholic who currently lives in California with his family.
Anna Kleszynski
Departmental Award Winners 2022
Latin Jack Mulvihill Christian Ramirez
Spanish Rasean Boyd Lysette Valdez
Technical Theater Hana Kyla Kionisala Ariane Lee
Speech Mia Lockett Najah Terrell-Walker
Theater Alex Bertucci Miguel Maninang
Math David Helsel
Biological Science Dominique Emery
Physical Science Conner Bailey
Art
Digital Photography Jordan Perdue 
Mixed Media Jenna Moore 
Sculpture Taylor Bullock
Drawing/Painting Aaliyah Merrick 
Drawing/Painting Mia Dabrowski 
Drawing and Digital Media Hana Kyla Kionisala 
Choir Logan Driver
Social Studies Anna Kleszynski Ana Tumacder
Band Etienne Atangana Roisin Walsh
Theology Johari Cole Evelyn Tuohy
English Warner Ferry Mia Lockett
Computer Science Conner Bailey Shiya Gong Miguel Maninang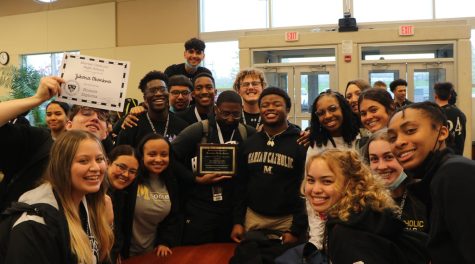 Honors Diploma
The Marian Catholic Honors Diploma is bestowed upon students who show outstanding academic achievement throughout their careers at Marian Catholic. Graduating with this honor shows that a student has met specific criteria and has achieved an elite academic status that sets them apart as truly accomplished scholars.  Students who receive this award will have a special sticker on their diploma.
Marian Catholic is proud to present a certificate of achievement to these students:
Etienne Atangana 
Conner Bailey
Joshua Bell
Rasean Boyd
Cierra Bradford
Taylor Bullock
Kirstyn Collins
John Curran
David Flores
Louis Gray
David Helsel
Margaret Keith
Hana Kyla Kionisala
Ariane Lee
Mia Lockett
Miguel Jose Maninang
Gia Mele
Maria Montgomery
Jack Mulvihill
Le Tien (Tim) Nguyen
Zikora Okonkwo
Evelyn Puntillo
Seoyeon (Bess) Son
Amaiya Torian
Guoqing Evelyn Tuohy
Roisin Walsh
Ohahuru Yejekwe
Abigail Yock
Special Awards and Scholarships
Golden Apple Scholarship 
Chaylan Palmer
Catholic War Veteran's Auxiliary – Special Citation
Brooke Waddle
East Suburban Catholic Conference Scholar Athlete Awards:
Conner Bailey – Men's Fencing / Men's Tennis
Noah Deabel – Men's Track and Field / Men's Cross Country
Warner Ferry – Men's Golf
RJ Kain – Men's Golf
David Helsel – Men's Tennis
Joshua Bell – Baseball
Rashawn Boyd – Men's Soccer
Angel Manrique – Men's Soccer
Jovan Okoro – Men's Volleyball
Le Tien (Tim) Nguyen – Men's Volleyball
Margaret Keith – Women's Fencing
Anna Kleszynski – Women's Basketball and Soccer 
Zikora Okonkwo – Women's Basketball and Soccer
Precious Osigbeme – Women's Soccer
Sarah Segarra – Women's Basketball and Softball
Sierra Schassburger – Women's Tennis
Evelyn Puntillo – Women's Volleyball
Ana Tumacder – Women's Volleyball
Abigail Yock – Women's Tennis
Brooke Waddle – Softball
Marian Catholic HS Student-Athlete Award
Male Scholar Athlete – David Helsel
Female Scholar Athlete – Precious Osigbeme