Warriors Win Fourth NBA Title; Curry Wins First Finals MVP
Golden State takes the series in Boston 4-2
Last night, the Golden State Warriors faced off against the Boston Celtics in Game 6 of the 2022 NBA Finals at the TD Garden in Boston. The outcome of the game was the Warriors beating the Celtics on their home court with a score of 103-90. The Warriors won the Finals series 4-2. 
The best players of the night – and the series – were Jayson Tatum for the Celtics and Steph Curry for the Warriors. At the award ceremony, Curry was awarded the 2022 Bill Russell NBA Finals MVP for his outstanding hard work and dedication.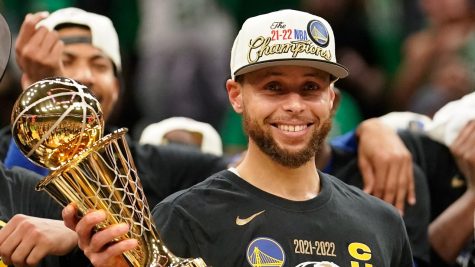 Before the game, Celtics fans displayed excitement and were confident in their team securing a Game 7. Warriors fans on the other hand, were excited for their team and were discussing a possible dynasty forming if they won. 
Despite not being on home court with their fans to cheer them on, the Warriors were proud and very ecstatic about their victory over the Celtics. Many tears were shed, along with hugs, short speeches of gratitude, and celebratory screams. 
The Warriors fans could be heard cheering and whistling happily for the team claiming their fourth title in eight seasons. However, many Celtics fans were quiet, and several would occasionally "boo" the opposing team in spite of the hurtful loss. 
Although the Celtics had lost, many of their fans were proud of the high effort they had put in during the season, and now expect them to return even better than ever.