Senior Sprinter & Jumper Races to Junior Olympics
Rising Senior Tells Her Story Heading to Summer Competition
What Senior Bethany Peoples did during summer break should stand out – at least, Peoples hopes it will. The track athlete earned a spot in the AAU Junior Olympics in Greensboro, North Carolina, as part of her South Suburban club team.  Peoples will compete in the high jump and as the third leg of a 4X400 meter relay team. The Junior Olympics are scheduled to begin Saturday and continue through Aug. 6. Here are the student-athlete thoughts on what this opportunity means, in her own words. 
The junior Olympics is a really big deal for a lot of reasons such as recruitment, or just the fact you made it all the way there. Not anyone gets the chance to go to this event. It was a 3-part process that you had to continue moving through.
At the end of June was the state meet, where you had to place in the top 16 for your event.
The second meet was the regionals meet and it was more difficult to qualify because more athletes from the region were added, like our biggest rivals from Ohio, Missouri, Indiana, and Wisconsin. At the regionals, meet I had to place in the top 5 out of 13 girls. I tried to keep a positive mindset because a lot of girls were jumping better than me. I came into the meet with my season's personal best. I was seated eighth seat. I had to focus on what I had to accomplished. I did it. I finished in third place with a jump of 4'10".
This is my second time going to the Junior Olympics. Last year it was in Humble, Texas. I didn't have the best results due to little training and my nerves taking over, but this year I'm going to prove to myself that all the work I've been putting in hasn't been for nothing.
Along with the high jump, I will be in the 4×4 relay where I had to fight for a spot. Once I earned my spot in the relay, our teams personal best dropped by 19 seconds. Our anchor leg, Riley Basano, is a true 400 runner. Basano runs a 58-second 400.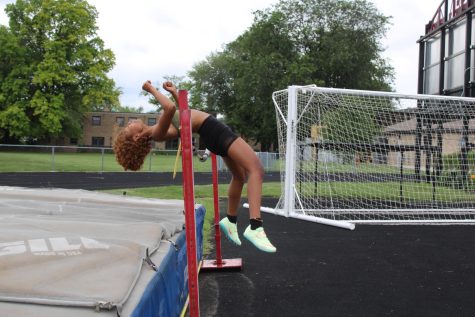 No. I do not know my split time because our coaches didn't time us.
Our AAU team is located at Crete Monee high school. We are currently the top 19th team attending the meet out of a pool of 2124 teams.
My training has shown so much improvement and I don't plan on taking many breaks because I'm took close to my goals to stop.
Next spring is my season and I'm looking forward to see what the future holds as a Marian Catholic Lady Spartan.