'Top Gun': Maverick Soars as Must-See Sequel
Action, Nostalgia Take Flight in Fantastic Film
"Top Gun: Maverick" is The Sequel to The Original. 
The original "Top Gun" starred Tom Cruise and helped make him a star. 
While Cruise's character has a "Need for Speed," there seemed to be no hurry in following up the first film released back in 1986.
Now 36 years later, "Top Gun: Maverick" has won over generations of fans who weren't alive to see the dynamic duo of Maverick and the late Nick "Goose" Bradshaw. 
Forget the over three-decade wait, this also was an anticipated sequel since it was supposed to be released in 2021, but there were some issues to say the least (like that Covid-19 worldwide pandemic) that nearly left fans soulful karaoke heartbroken.  
But just like Pete "Maverick" Mitchell refused to back down in the first film, Tom Cruise refused to let "Top Gun Maverick" to be streamed on any platforms before making its debut onto cineplex screens. That turned out to be a billion-dollar bet that Cruise won. So far, the movie has earned $1.4 billion at the box office, despite not playing in the world's most populated country: China. "Top Gun: Maverick" is now one of the highest grossing movies of all-time. It certainly paid for Paramount Pictures to listen to Cruise.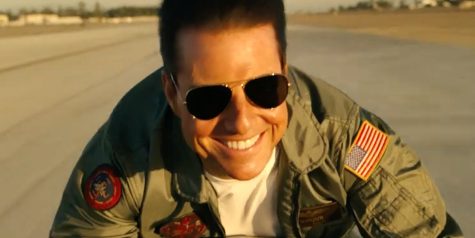 The actual movie focuses on the conflict between Maverick (Cruise) and Bradley "Rooster" Bradshaw, played by Miles Teller ("Divergent," that Taylor Swift video "I Bet You Think About Me"). Rooster's dad, Goose, was Maverick's friend, who many believe may have been responsible for his death. 
The plot places Rooster and Maverick as instructors to a pilot class. It's a bit tense, to say the least. 
While it's not essential, it could be helpful to see the original first. There are a roller coaster of emotions that rev up revisiting familiar characters from the 1986 classic, especially as the action moves toward its climax. 
Will Rooster and Maverick forge a friendship when they're forced together after everything seems to go wrong? (Hint: When has a Tom Cruise mission been impossible?)
Both action and nostalgia take flight in this fantastic film. 
The movie was so powerful that some fans like NFL Hall of Famer and "Good Morning America" announcer Michael Strahan said he cried at the end. 
If you don't trust the NFL all-time sack leader, please believe this is a film that soars as a sequel. If you like action and emotional rollercoasters, make it your mission to see "Top Gun: Maverick." 
"Top Gun: Maverick" gets 9 out of 10 Spartan Stars.