New (and familiar) Faces Bring Enthusiasm, Grace to Marian
Dean Crossley, Ms. Van-Beest join Marian for 2022-23 Academic Year
Over the course of the summer Marian Catholic hired nearly a dozen new teachers and staff throughout the Theology, Social Studies, Language, English, and Science departments. 
Throughout the next several issues, we will attempt to introduce you to all of these new members of the Marian community. 
We begin in this issue with Dean Crossley, Ms. Van-Beest, Mr. Johnson and Coach Lopez.
Mr. Johnson and Coach Lopez can be found in separate stories.
Now, meet Dean Crossley and Ms. Van-Beest.
Dean Crossley
As the first week of school started, Marian Catholic's new Dean of Community Life, Dean Crossley said his experiences so far have been great as students seem, "excited to be back," while the teachers are, "ecstatic to prepare students for success."
It's been going extremely well for him, Crossley said, even better than he expected because there hasn't been very much trouble with students and the teachers are nice and supportive helping him with his duties. 
His goal at Marian is to make it one of the best Catholic High schools in the nation and to achieve that he wants to help students be it academically, athletically, socially, and especially spiritually. 
Crossley students should know that he has "a sense of urgency" when it comes to meeting students' individual needs and helping them to maximize their effort. 
Dean Crossley is also the Assistant Men's Basketball Coach as well as the Head Track Coach. 
Overall Crossley said he is just very happy about coming to Marian and wants to be a part of the Marian Community and wants students to feel open and comfortable around him and will help them find their way be it through school or anything else.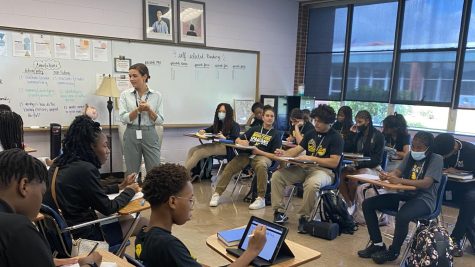 Ms. Van-Beest
For Ms. Van-Beest, teaching English at Marian is a bit of a homecoming. 
Van-Beest is a Marian Alumni ('13) who had always wanted to come back and teach at the school where she created wonderful memories. She has always felt, Ms. Van-Beest said, that Marian shaped who she is today and wants to provide that for others. 
So far for her she has described the experience as, "Exciting and she's had a lot of new experiences." 
Outside of the classroom, Ms. Van-Beest was a collegiate swimmer. You may also know her younger sibling, Jay, a senior and member of the Spartan Star Staff. 
In the classroom, she teaches Freshman and Junior Accelerated English. 
During her tenure Van-Beest said she wants to encourage independent reading, establish a literary magazine where students can submit their creative work, and get involved in student-led clubs. Her message to students is, "Give yourself some grace when it comes to goals, set those big goals but always leave space to improve."