Spartans Soccer Gets Kick Out Early Tournament
Marian finishes third at New Berlin Invite
When they win, they absolutely demolish: 8-0 over Rich Township.
Or simply crush: 8-1 versus Providence Catholic. 
When they don't, it's close, like 3-0, against Saint Viator.
That was before the team's recent trip to Wisconsin. That was before they formed bonds that could help the team win those close games, now that players have grown closer after the trip.
On Wednesday, Marian Catholic Spartans men's soccer beat Joliet Catholic 6-5 in a close contest to boost their record to 7-5 to start the 2022-23 season.
Over the last couple of years, the varsity team has headed up North in Wisconsin after starting the season for an opportunity to get away, to bond and to gain the experience of tournament play.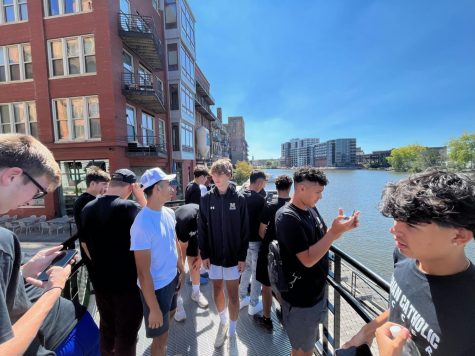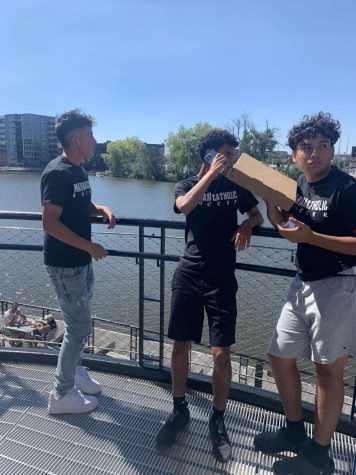 The Spartans finished third at the New Berlin Invitational besting Delavan-Darian 3-1, powered by goals from Antonio Ferreira, James Milloy and Jalen Williams.
The team followed that game with a 3-0 loss.
Despite the loss, Marian Catholic bounced back and kicked their play up another level to roll to a 7-0 victory Milwaukee South.  Junior Jaden Schillingford and Antonio Soto, a senior, were among the five Spartans to score goals in that contest.
The Spartan Star caught up with Shillingford and Seniors Soto and Eric Sebastian ahead of their out-of-state play to ask a few questions about team expectations, tournament play and the future of soccer in the U.S. prior to Marian's Milwaukee trip.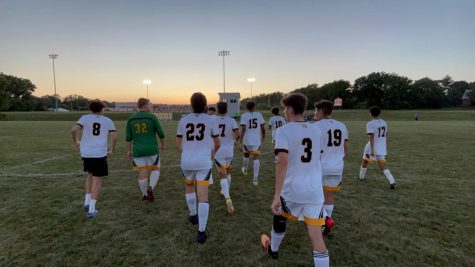 The Spartan Star: What are your individual goals for this year? What are your team goals for this season? 
Shillingford: My individual goals for the soccer team this year are to contribute to my team offensively by making good plays and shots to be dominant. Our team goals this year are to win the regional finals and go forward from there.
Sebastian: Some individual goals for me this year [are] to hopefully end up getting All-Sectional award, and a scholarship from college or university. My hopes are to keeping playing after my high school season is over and pursuing higher education with the help of that scholarship. The main team goal for the season is for us to win [our] conference.
Soto: In terms of individual goals, I personally want to continue working on my own personal skills in soccer as well as grow as an individual player on and off the field. As for team goals, the team is looking to win Regionals and our Conference this year and to bag wins against big local rival teams like Bloom Township and Homewood-Flossmoor.
What would make this year successful for the men's soccer team? 
Shillingford: This year would be successful for us if we win regionals. That would set an example for the following Marian soccer teams we form after this year.
Sebastian: Win over 10 games.
What can people expect to see when they come to a soccer home game? 
Shillingford: They can expect to see a significant amount of energy displayed in the field and a feeling of adrenaline from the crowd.
Soto: There is a lot of heart and passion coming from the players and it rubs off onto the fans making for a really fun experience.
Tell us about the team's annual trip to Milwaukee. Who do you play in this tournament? What does this trip and the level of competition you face do to the team? Is the trip a highlight of the school year? 
Shillingford: In the Milwaukee tournament we play local teams in Wisconsin like Delavan-Darian and then it depends on how we do after that game to move forward. The competition is harder in this tournament than our conference. We play better teams. technically and physically, there. 
This trip is a highlight of the school year because it will bring us together more and help develop better communication and teamwork.
Sebastian: The annual trip usually brings the team closer together and helps us become brothers, it makes a tighter bond.
Soto:  It is an opportunity for the team to bond and have fun but also [to have] an experience for us to grow as team by playing against teams from different places other than Illinois. In this tournament we play teams from other states like Wisconsin.
The Milwaukee trip brings the team closer together to be much more than a team, but a family. The level of competition is high and meant to challenge us to push ourselves as not just individual players but a team. This trip is definitely a highlight for the school year for me and a lot of the other guys on the team.
Will the US National men's soccer team ever be as successful as the US National women's soccer team? 
Sebastian: The US Men's National Team, in my opinion, won't ever top the success of the women. The US Men's National Team has started to become more successful and even top some European teams0, but the US Women's National Team has done something no other National Team had ever done. They had won 8 World Cups and the US Men's National Team can only a dream about winning that many. That's a dream that could take more than half a century to achieve.
Soto: In recent years the US men's team has improved some but is still not near the success to that of the women's team but is definitely headed in the right direction. It is going to take a while for it to happen but if young men who play soccer with high skill, soccer IQ, and passion for the game step up to the challenge, we definitely could see a great US National men's team in the future.
The team's next home game is 4 pm Sept 21 versus Benet Academy.