'Fall' Rises to Cinematic Heights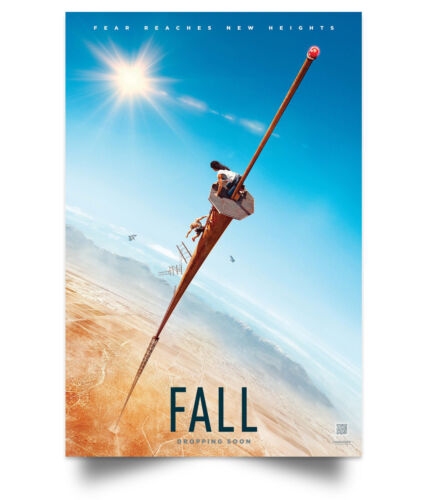 Fall is a must-see survival/thriller from the brilliant minds of Scott Mann and Jonathan Frank. 
Meet Becky, a woman who – along with fellow thrill-seekers – rises to every occasion to attempt to make the most dangerous climbs known to human beings.
However, after a tragedy Becky halts her adrenaline-led lifestyle to mourn and wallow, while her friend, Hunter, helps to snap her back to form. Hoping to bring back the old Becky, Hunter entices her to go on what would be their most dangerous climb yet – the 2,000-foot B67 TV Tower, the so-called "4th tallest structure in America." Of course, this tower also happens to be quite old…and rusty. 
The tower sounds unbelievable. Yet, it's not. 
Located in Rowena, South Dakota, the tower called the "KDLT" was constructed and opened August 19, 1998. 
To make it even more believable, a 100-foot replica of the Rowena tower was filmed in the middle of the Mojave Desert. 
In an interview by Joe Friar with one of the movie's directors Scott Mann, the filmmaker said, "We did a lot of scouting and came across a location in the middle of the Mojave Desert, essentially a 2000-ft cliff in the Shadow Mountains where we built our tower so we could film the girls at the actual height of the TV tower. Because we are at the top of a mountain, the elements were similar, and we could capture some great shots from the height."
As a result, the visuals are strikingly hyper-realistic, easily bringing viewers to the edge of their seats, simply hoping and wishing for Becky and Hunter to make the right decisions. 
Normally, I'm not a fan of this fare but I must say, this movie kept me intrigued. While I won't spoil the story, I definitely will recommend seeing it and ascending the highest to reach the lessons one could learn from the film. 
First, I wouldn't recommend climbing a 2,000-foot pole in the middle of nowhere. 
Second, I would recommend trying to enjoy life to the fullest (carpe diem, YOLO, "Live your best life") which can be done without following in the footsteps of fairytale Jack of Jack and the Beanstalk or just for "follows" on social media.
Rated PG-13, Fall teaches viewers not to dwell on the past and not to act idiotically in a way that could be life-threatening.
Overall, Fall is definitely worth seeing, and though it seems like a lengthy film, every minute of it will keep you engaged, biting your nails, and if you're like me, you'll be curled into a ball of anticipation. The film can be found in theaters and on most streaming platforms.
Fall gets 8 out of 10 Spartan Stars.