Racist, Sexist Sarver Must Sell NBA Team
Phoenix Must Rise From Ashes of Bad Management
Phoenix Suns owner Robert Sarver is in hot water after reports calling attention to his racist and misogynistic behavior in the workplace came to the surface. ESPN began an investigation on Nov. 4, 2021 which concluded Sept. 13 with the NBA announcing that Sarver would be receiving a one year suspension as well as a $10 million dollar fine for his actions.
This seems like a fair and just punishment on paper but considering that Sarver has been an owner of the Suns for longer than I've been alive, and his behavior has apparently persisted throughout his entire career, it's a bit odd to me that his league-issued reprimand was equivalent to a slap on the wrist. When contextualizing the fact that Sarver is a multi-billionaire, $10 million dollars and a vaguely defined suspension doesn't seem to be enough. Many fans, media members, current and former players believed that he should've been forced to sell the team immediately.
After news of the fine broke, LeBron James tweeted "Read through the Sarver stories a few times now. I gotta be honest…Our league definitely got this wrong."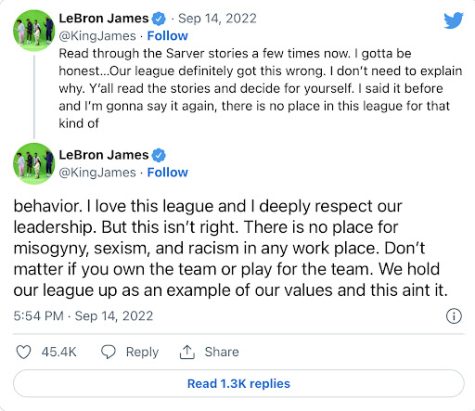 Phoenix Suns starting point guard, Chris Paul, also chimed in. "I was and am horrified and disappointed by what I read," Paul wrote, "I am of the view that the sanctions fell short in truly addressing what we can all agree was atrocious behavior."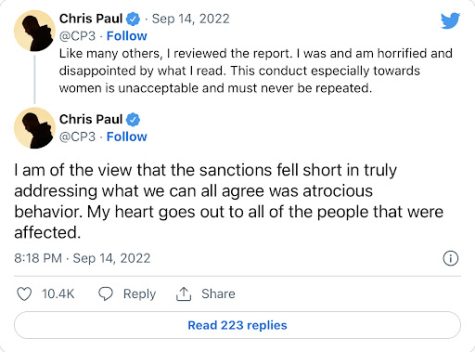 The day after the investigation concluded, NBA commissioner Adam Silver held a press conference. When discussing the fine, Silver stated, "I don't have the right to take away his team. I don't want to rest on that legal point because of course there could be a process to take away someone's team in this league. It's very involved, and I ultimately made the decision that it didn't rise to that level."
Which then raises the question: What is the level, Mr. Silver? If Sarver was able to continue his tirade for so long, there really isn't one.
This situation reminded me of when former Los Angeles Clippers owner Donald Sterling was forced to sell the team in 2014 due to a very similar scandal including racism within the workplace. The biggest difference being that Silver was not commissioner at the time.
Luckily for the optics of the league, Sarver began an independent search to sell the Phoenix Suns as well as the WNBA affiliate Phoenix Mercury amid the substantial backlash he's rightfully received the past few weeks. However, the damage already appears to be done. It's evident that the NBA's priorities do not lie in making the workplace a safe environment for employees. Apparently business sense is more powerful than common sense.
Unfortunately, I was unable to include the full details of Sarver's actions throughout his 17-year tenure as owner. If you would like a deeper exploration of ESPN's investigation, click here.