New Theology Crew Bring Their Experiences to the Classroom
Just beyond First Hall, along Dominican Way, across from the Bracha Center, lies one of the special aspects that makes Marian Catholic standout compared to other high schools: the Theology Department.
While led by department chair Mr. Sovereign, and veteran teachers Mr. Kopycinski and Mrs. Pasyk (Class of '92), this year Theology added three more members to the crew that some students have dubbed "The God Squad."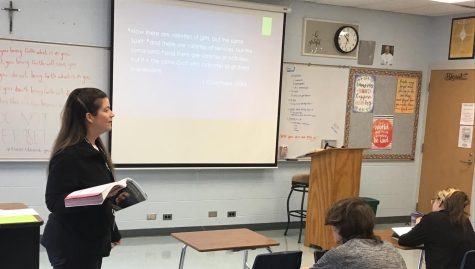 Among these new teachers who include Mrs. Morgan, Mrs. Mullins and Mrs. Benas, is Mr. Filipiak, an educator who has shared his talents in the classroom and in the convent kitchen, in his first couple of months at Marian. 

"I think this community has itself together across academic, social, and spiritual lines. It is beautiful to watch this community work. I hope everyone, my freshmen especially, feel as welcomed and wanted as I do," said Mr. Filipiak. 
Along with teaching classes, Filipiak also has distinguished himself during the first semester Community Periods, working with Dr. Rousseau, as co-moderator of the Cooking/Baking Club. 
While it might sound out unconventional, Filipiak has a wealth of real-world experience of faith in action at an early age. 
"I started teaching CCD [Confraternity of Christian Doctrine] when I was a teenager in seminary. I went on to major in Theology, among like ten minors, at Loyola, while I worked part time as a CCD teacher and youth minister," Filipiak said.
And then things headed South, literally not metaphorically. 
"After college I did a year with the Jesuit Volunteers in Alabama, where I was a sex educator and HIV outreach worker. When I came back to Chicago I went back to Loyola for my M.Ed, while working full time for the Archdiocese of Chicago in Little Village," Filipiak said. 
Still, there was a choice to be made on how to establish himself in the classroom.
"When I graduated, I took several positions teaching science and religion. A couple years back I transitioned to high school and settled into theology over the sciences," Filipiak said.  "But don't get me wrong, I still love science. But it isn't a calling, not the way theology is." 
And what should students know who may find themselves in Mr. Filipiak's class? It depends on what that student needs individually.
"You want me to be hands off, I'll let you duke it out for a while. You want me up in your business, I'm watching your every keystroke. But no one, no one fails my class on my watch," Filipiak said.  
"Theology is about finding yourself in relation to the spiritual and the social. Everyone should succeed at that, and they can; sometimes, we just need a little help."