Spartan Playoff Hopes Back Up and Running (and Sacking)
"Run! Run! Run!"
Spartan fans spent the first half screaming as tailback Tyler Lofton rushed for three touchdown runs finally moving Marian Catholic to its fourth victory on the year. 
Marian's 40-26 score over DeLaSalle put the focus on the flexibility of players to take on multiple roles in pursuit of a Marian victory.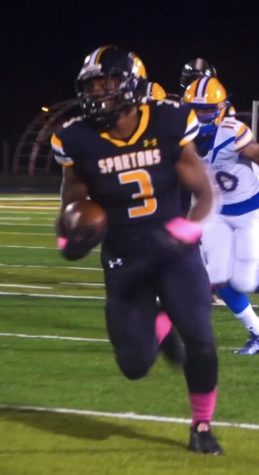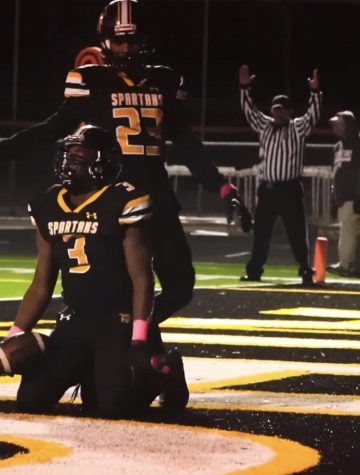 Senior Kyle Thomas, the team's starting quarterback, threw for yards, caught two touchdowns and even had an interception.
Thomas pulled in his pair of TD passes – of 13 and 29 yards – from Carter Magerski.
Magerski, a junior, also rushed nine times for 30 yards. 
That momentum which lifted Marian to a win started with sophomore Lofton running away from Meteors defenders.
Lofton scored on consecutive carries of 27 and 56 yards, which gave Marian an initial lead over DeLaSalle, amassing 163 yards on 15 carries, before missing the second half with an injury. Coach Lopez said that Lofton is expected to play in Friday's game.
That's not the case for junior wide receiver/defensive back Austin Alexander, who suffered a knee injury during the game. According to Coach Lopez, Alexander will miss the rest of the season. Fans who saw him leave in an ambulance should know that Coach Lopez said the junior is "recovering and doing well."
Even as it appeared DeLaSalle might make a comeback after being down 12-0, Spartan returner and junior Kaleb Isom filled DeLaSalle with doubt when Isom returned a kickoff 83 years to insure a 25-13 lead at halftime. Along with two receptions for 22 yards, the Spartan receiver caught a two-point conversion pass and rushed four times for 35 yards. 
After the game, Isom spoke to The Spartan Star about the difference he saw against DeLaSalle compared to three prior games the team played.
When asked if the team needed to make physical or mental improvements to close out games with wins, Iso said it's a matter of mind over matter.
"It's mainly a mental switch. We have all the talent and athletes to compete. It's just having the determination to go out there and have a killer instinct to win and dominate the person across from you," Isom said.
Junior linebacker Joe Garcia also expressed his frustration with their 0-3 losing streak.
"Every game we had lost was on us making mental mistakes that we couldn't recover from," Garcia said.
But against DeLaSalle, it was the Spartans capitalizing on Meteors mistakes of missed blocking assignments and passing into tight coverage.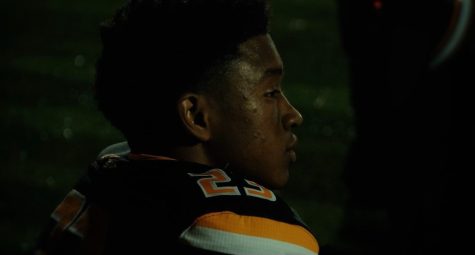 During the game, there were a flurry of sacks from junior Caiden O'Neil as Marian confined DeLaSalle to 50 yards in the opening half. 
O'Neil was part of a defensive front with Etin Oronsaye, Cameron Orange, Kenny Smith and Joaquin Mendez that grounded the Meteors rushers, holding them to negative numbers initially. 
Along with Thomas's interception, there were two other turnovers on the night including a fumble recovered by Kaiden Jensen and another interception caught by Kelby Key. 
Although there were injuries including to top running back Lofton, a win is a win, and it is an end to a losing streak,  
The Spartans head to the Southwest Side to face the Crusaders of Brother Rice at 7 pm. Friday and a chance to start a second winning streak on the season. 
In two weeks, Marian Catholic comes back home to end the regular season with a 7:30 pm Oct. 21 game at Dave Mattio Field versus Carmel Catholic. 
Two more Spartan wins could send Marian Catholic football somewhere the team hasn't been for 12 years, back into the IHSA Playoffs.  
To have a playoff run, the chant will be "Win! Win! Win!"
With that first "Win!" in, Garcia said, it's all about staying focused.
"I feel we've been practicing really well, and we can come together as a team and finish these next three weeks with wins," Garcia said.
The ultimate goal is in sight, Garcia said, to "finish 6-3 and see the playoffs."