'42' & Counting – Marian Catholic Marching Band Takes Class 3A- Again
The Marian Catholic Marching Band & Colorguard won the Class 3A at the State Championship which was held October 22 at ISU in Normal. 
Marian Catholic has won their class for the 42nd year in a row, but the results were anything but normal based on the band's results for past years. This was due to the fact that the band refused to whither under the pressure to preserve the band's four-decade long record.
Under the leadership of Director of Bands, Mr. Bimm, Marian captured first place in the categories of High Achievement in Musical Performance, High Achievement in Visual Performance, and High Achievement in Effect, which earned them First Place in Class 3A and a berth in the Finals competition. In the finals they earned a 5th Place finish out of fifteen bands from Class 1A through 6A competing in the finals.
"With the complexity of our shows, there is a level of high risk with how our show is perceived by judges", said Senior Alana Canino who plays trombone. 
The band takes many risks during competitions in order to stand out, but this can often lead to more confusion within their performances. 
"We performed better than the prelims but somehow our score went down," said Senior Dion Brumfield who plays the mellophone. 
The judging led to some discord among the band members, but the Marian Catholic Marching Band was able to pull out a 5th place finish overall.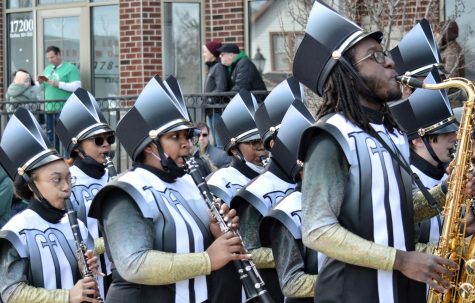 State Marching Band Finals
Morton 

Normal

Prospect

Lockport Township 

Marian Catholic