After Loss, Team Hopes for Prep Bowl Invite
Solid Start Not Enough to End with Regular Season Win
Last Friday, it looked like Marian Catholic was a lock to get into IHSA playoffs.
But now, the team is left hoping for a Prep Bowl invite.
The Spartans were up 17-0 over Carmel Catholic.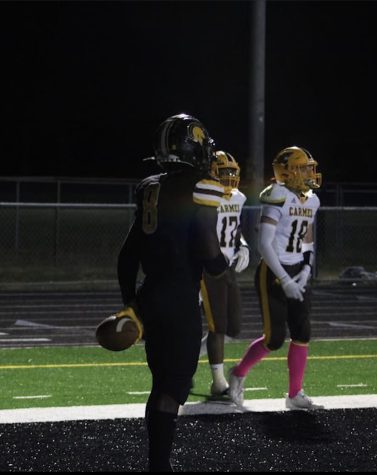 In this CCL-ESCC Purple finale, the Spartans seemed to be as dominant as they were in their 3-0 sprint to start the season.
Despite that early lead, the Corsairs reared up in revolt in the second quarter. Then Carmel Catholic scored 38 unanswered points to seal their 38-17 Purple victory.
Carmel Catholic rolled up 527 yards, led by tailback Donovan Dey who got the better of the Spartans for 271 rushing yards and three scores.
As a result of this, Carmel Catholic solidified its IHSA playoff position with a 6-3 mark, while Marian was left hoping for a Prep Bowl call with a 4-5 mark.
After forcing a quick punt, Marian marched 72 yards on its initial possession. Spartan quarterback Carter Magerski hit Kyle Thomas for 20 yards, then Kaleb Isom for 33 yards to get into striking distance. Three plays later, Isom scampered around end for a 20-yard score. An interception by Isom set up the home squad for its next score. 
Highlighted by a 48-yard dash by Tyler Lofton (18 carries, 74 yards), Marian marched from its own 1-yard line to the Carmel 14.
Fresh off playing in an IHSA soccer regional final in the afternoon, Spartan kicker Eric Sebastian booted a 33-yard field goal to give Marian a 10-0 command midway through the second quarter.
Led by linebacker Kaiden Jensen, Joseph Garcia and Roosevelt Griffin, the Marian defense sparkled in the early going. On Carmel's first three possessions, Marian forced a punt, held on fourth down in the red zone and picked off a pass. Then, the 95-yard run changed the success level of the Spartan defense for the remainder of the contest.
Despite three one-score setbacks and a vast improvement over 2021, Marian was unable to navigate the five victories necessary for a likely IHSA playoff berth. The Spartans will await their Prep Bowl fate in meetings this weekend.