Lady Spartans lighting up court, lifting hopes for State
'Hustle' Part of the Flow for These Sizzling Spartans
Five and "Oh!"
That's how they started. But it wasn't where they stayed.
The Lady Spartans sizzled against teams that seemed overmatched. 59-9? 
Ignited by the play of Junior guard Madison Davis's 17 points, along with Sophomore Alainna Poisson's seven (with two 3-pointers) and Freshman's Ty Jackson's six, the team claimed the Immaculate Conception Invite title, with their 52-27 win over Resurrection in late November.
Yes. That's correct. They nearly doubled Resurrection's score.
Marian Catholic was blazing the hardwood before they took the court against Batavia on Dec. 3.
Then Marian lost 36-22.  
The team also fell to Benet Academy on Wednesday. 
Still, the women's basketball team has a torrid 5-2 record. With the rate they are going, they have a chance to win a championship for the first time since 2015. They were blowing out teams in the beginning of the season with Reavis 59-9.
This weekend, Marian Catholic will host their annual Christmas Invitational, Saturday, Dec 10th through Dec. 14. These games will also be their first home games of the season. 
The team will take the court 4:30 pm Saturday vs. Rich Township and later at 7:30 pm against Hillcrest.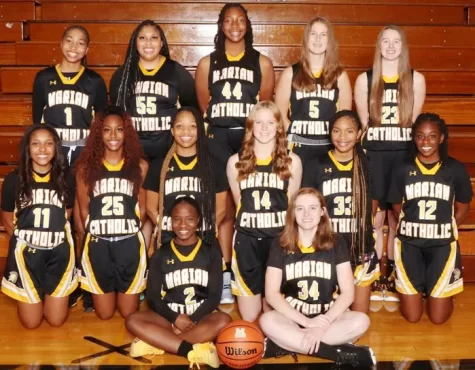 Last season the Lady Spartans went 27-8 and went to Super Sectionals with the chance to go State. They barely missed taking that trip to play in Peoria.
Senior Khamille Jackson said this year's squad is stronger because of that experience.
"After last year's season, the most important thing that we've learned as a team is to play every minute of every game and have confidence in ourselves and our teammates," Jackson told The Spartan Star through email. 
"Starting out this season as a relatively young team, there are a lot of aspects of the game that are still developing, such as knowing each other's strengths and weaknesses, but the foundation of our team always needs to be hustle," Jackson said. 
"Hustle," the senior said, "is what has made past teams so successful. [Hustle] along with building confidence, [is what] will make this season a really good one."