Wednesday's Child is Full of Whoa!
Woe to you if you're missing Wednesday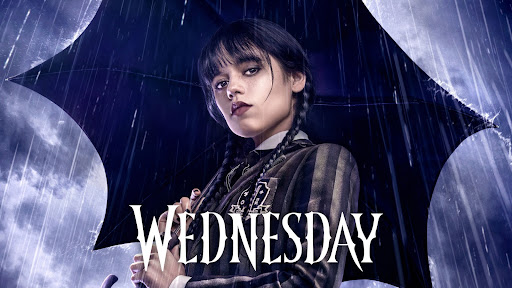 The new Netflix series "Wednesday" featuring Jenna Ortega, debuted Nov. 23rd and has since become very popular. 
The show follows Wednesday as she transfers to Nevermore Academy, a school for outcasts. Wednesday follows along her own path of solving a murder mystery in the town. She meets all kinds of people ranging from werewolves to sirens.
Christina Ricci who played Wednesday Addams in the 1991 The Addams Family movie adaptation retired her role of Wednesday and takes the part of Marilyn Thornhill, a normie teacher at Nevermore. 
Although the show has beaming reviews, there is controversy that comes with that. Tim Burton who is the creator of many dark and gory films like Beetlejuice, Edward Scissorhands, and Corpse Bride. His brand comes from the idea of dead, pale, and "sickly" features. He has stated that people of color just aren't his "default" saying "things either call for things, or they don't." These "things" being people of color to diversify his casting choices. This was in response to Bustle when asked about his lack of diversity in the film, Miss Peregrine's Home for Peculiar Children. This movie was the first of his to feature a main character who was Black. Samuel L. Jackson played the main villain in the film. (What? You'd thought he'd be a hero?)
Burton's movies have always been inherently white, though when he does cast people of color, they seem to play off stereotypes. That's what I've seen to be complaints about the series. It seems to be a pattern that the Black characters in the show have been portrayed as hostile and bad people. Whether that be true, it is how these characters are seen by others.
Besides some cringy moments, the show was well made.
The plot of Wednesday is developed steadily over the course of the episodes, each one giving new pieces of information. It helped to form your own theories and make the finale a thrilling one. Jenna Ortega also deserves applause for her performance and her ability to have the skills to fill the shoes of a difficult role such as Wednesday.
The TV series, Wednesday, gets 9 out of 10 Spartan Stars.