Messi, Argentina Win World Cup
France to play Morocco today
Final Update: Argentina wins World Cup in penalty shootout over France. 
Lionel Messi claims his first World Cup win for Argentina. France's Kylian Mbappe wins the Golden Boot with hat trick in the final match.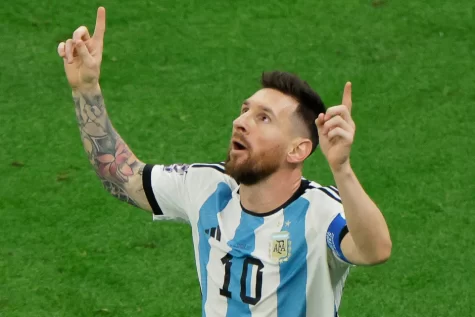 Update: France will play Argentina at 9 am Sunday in the 2022 World Cup final.
Futbol's final four were set earlier this week. 
Now, with a few games to go, this is the perfect time to flashback to review how these teams fought their way to the top, penalty kicking and cheering, to claim the World Cup trophy. 
After his country's 3-0 win over Croatia Tuesday, Lionel Messi has earned his second trip leading Argentina to a World Cup final.
France faces Morocco at 1pm today.
How did Croatia, Argentina, France and Morocco make it to the very short list of the world's elite? 
Let's rewind. 
'Blue Lock' No Match for Croatia
In the weeks preceding the globe's biggest sporting event, there was an anime series called Blue Lock that had been released not months after the World Cup in 2018. Japan had suffered a crushing come from behind defeat against Belgium. And the manga which is the comic in which the anime is based, picks up from that point and follows Japan as they are known for being a team-oriented team without a true person that will score, known as a striker or number 9 because they usually wear the number nine.
Japan is a culture in which the group is valued rather than the individual, so in games like baseball which is more role-based Japan excels. But with soccer where there are more nuances Japan seemed to implement that mindset into the game. So, the manga depicts that after the World Cup there was a project to create a number nine by taking the top high school players and basically making it a death-game elimination game minus the death part. And if eliminated they would not be able to ever play for their country. And I kid you not, Japan came out of nowhere beating down European superpowers SPain and inevitably knocking out Germany. They moved on to the Round of 16 and coincidentally but also not coincidentally the anime was running at the same time.
With these huge victories the Japanese people started believing that, "The Blue Lock is real" meme but also reality simultaneously. Though with all this hype over the Blue Lock being real Japan went down in penalties to Croatia. It was a sad and anti-climactic ending to all the work Japan had done but invigorating and exciting for the age of soccer, nonetheless.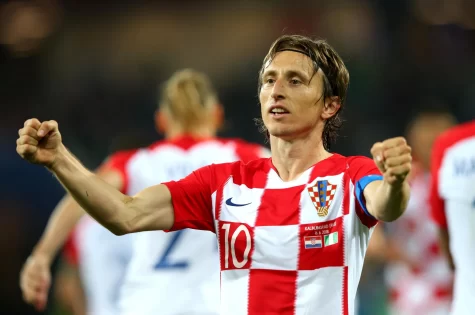 Marrakesh Express to The Cup
The one true surprise team this tournament is Morocco, who not only topped their group with the number two ranked team in the world falling out but went on to beat a very strong Spain team on penalties. They followed that up by defeating Portugal and destroying Ronaldo's dream in his last international match. They are the first Arab and African team to make the semi-final. Upon the backs of PSG right back Achard Hakimi and Sevilla striker Youssef En-Nesyri, the Moroccans have achieved the impossible and will face the defending champions France on Wednesday.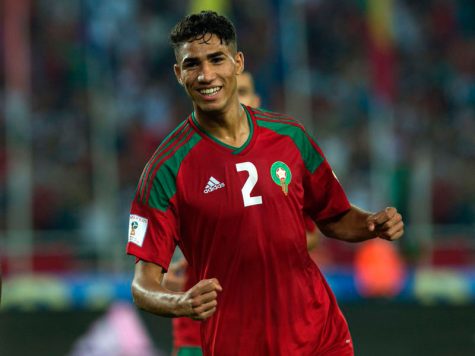 Tchau, Brazil
The favorite in the whole World Cup, Brazil was eliminated on Friday on penalties to Croatia. Through 90 minutes there wasn't a score but in extra time it got extra interesting as the Brazilian star Neymar Jr. broke through and scored allowing Brazil to take the lead. But no less than 10 minutes later did the Croatians score off a deflection off the back leg of a defender. And with that it went to penalties, and not a few days prior did Croatia go to penalties with Japan. The first kick from Brazilian Rodrygo was possibly one of the worst penalties I've ever seen, but he's the professional footballer not me. He kicked it to the center allowing for an easy save.
With that, Croatia had the numbers over Brazil. The penalties were at 4-3 and it was Brazil's chance to tie it and hope for a miss from Croatia. PSG Star Marquinhos stepped up to an immaculate penalty that no one could have saved, but soccer is a game and sometimes there is luck. And unfortunately, he was very unlucky as his kick hit the post and went out, allowing Croatia to move on to the next round. 
Initially Neymar said this would be his last World Cup surprisingly as he's only 30 but after the heartbreaking defeat, he's re-thought his initial international retirement and decided to come back one more final time in the 2026 World Cup in Mexico, Canada, and the U.S. So, he and the magical Brazilians will have more to go at it and try to secure their sixth trophy, but they'll still have to wait 4 years for that.
Tchau, Ronaldo
Unlike Neymar who's only 30, 37-year-old Cristiano Ronaldo doesn't seem to have a choice as he'll be 41 by the next tournament so he'll have to hang up the boots. Having favorable chances against Morocco didn't help as Ronaldo had troubles with his manager this time in his country and not his club. He was benched for the previous game against Switzerland in which Portugal was defeated 6-1. He started this game on the beach too but came in late down 1-0, but his efforts did not help as the game ended the same way. He was very distraught over the loss and his future is unknown as he doesn't have a club anymore and can go anywhere he decides. It's a true tragedy as a lot of fans were hoping for a Portugal vs. Argentina – finally – to decide who is the GOAT, but now only Messi is left to try and solidify himself as the Greatest of All Time.
Don't Cry for Argentina
Possibly one of the greatest soccer games of all-time was Argentina vs. the Netherlands which had a World Cup record 17 yellow cards. 
To open the scoring Messi kicked one of the most beautiful and unforeseen passes in history. Minimally getting it to his striker for the score. In the second half there was a penalty for Argentina and Messi was the one stepped up to take it. He missed his previous one versus Poland, but on this one he easily got it past the keeper. And with the score at 2-0 with 7 minutes left before stoppage time Netherlands scored making it 2-1. They weren't giving up and kept pressing on. In the 101' minute there was a kick in the Argentina final third. And something straight from a FIFA game instead of going for the goal there's a pass right beside the wall and Weghorst the person that scored the first goal gets the ball and puts in the net to square the game at 2-2 at the end of regulation. Extra time was pretty slow though there was a person sent off with a red card. This game went to penalties as well, and luckily for Argentina they were the ones that one and didn't squander a 2-0 lead in less than 20 minutes. And that leaves only Messi left of the GOATs to try and win the World Cup. He and Argentina play Croatia on Tuesday.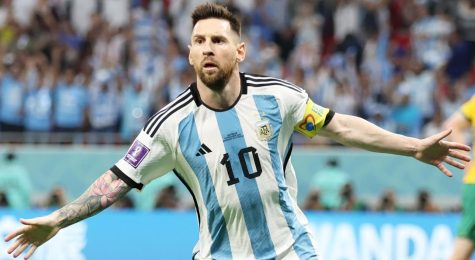 Viva la France!
The defending champions France are cruising through the World Cup easily getting through the group stage, easily beating Poland, but narrowly escaping the English. The game was tied at 2-1 with 86' played and there was a penalty kick for the English, but English star Harry Kane skied it allowing for the French to rule the day and leave victorious on to the final four. With Croatia and France both still in, there's a possibility that there can be a rematch of the final from last year.
Lionel > Luka 
Of all the teams Croatia caused queasiness in the stomach of the status quo. After all, it was The Checkered Ones who beat Brazil and 
Japan in penalties and together with Morocco, knocked out Belgium, who had been the Number Two ranked team in the world. 
This wasn't uncharted territory for Croatia. Last year, they went on a run in which Luka Modric was named footballer of the year. But this year Croatia's back and even better than before as Mordic had more support before bowing out to the legend that is Lionel Messi.