Theater Takes Flight Again With 'Peter' Prequel
"Peter and the Starcatcher" first show during school year since start of pandemic
By Noelle Treadwell 
Catch a star (or two) on the student stage as the theater takes flight once again at Marian.
"Peter and the Starcatcher" will make its debut at 7pm on Friday, Oct. 22 in the theater. The play will run through the weekend with shows 7pm Saturday, Oct. 23 and a 2pm Sunday matinee on Oct. 24. Tickets are $7 for students, $10 for senior citizens and $15 for adults.  
Written by Rick Elice, the play is a work of fantasy based on childhood innocence partly based on the famous English boy who vowed never to "grow up." Themes of innocence can be seen throughout the show but there are also themes of adventure and wonderment. 
Among those excited to have live performances return during the school year is the director of the Marian Theater Department, Ms. Hilger.
"Peter and the Starcatcher," Hilger said, "is a prequel – or story before – the story that we all know, Peter Pan." 
Audiences should be ready to laugh, Hilger said.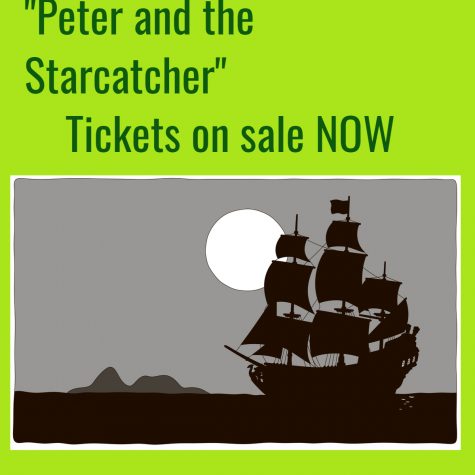 "It is a comedy – there is a lot of heart in it so there are emotional moments – but over all it's comedy," Hilger said.
The show is "filled with lots of silly characters. It basically takes place inside of a – someone's imagination so there's lots of crazy characters. Lots of students will be able to be involved in it. And there is lots of music in the play, so – it should be really exciting."
Excitement and escapism certainly are welcome after what has felt like endless months of grief created by the loss of countless lives of a worldwide pandemic.  
Junior Aaron Yock  plays the Boy (destined to become Peter), who starts as a mundane orphan in England who is to be transformed on a ship called Neverland into the immortal flying boy that author J.M. Barrie described as being clad "in skeleton leaves and the juices that flow from the trees."
The Boy is among a group of orphan English boys sent on a ship to be servants to the king. Boy makes some friends. Boy meets Molly, a girl who has stowed away on this journey.  
Based on his excitement to win the role, Yock shouldn't need invisible wires to take flight. 
"I'm really excited for the Peter role," said Yock during a rehearsal. This will be the junior's first lead in a school play. Yock also has been featured in productions of "Chicago: The Musical" and most recently, "Footloose" which finally played to audiences in mid-July after extracurricular activities came to a screeching halt in the face of the Covid-19 pandemic.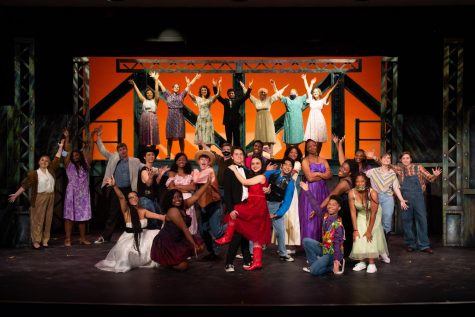 In fact, "Peter and the Starcatcher" will serve as the reopening of theater at Marian during the academic year since the start of the Covid-19 pandemic. Though the pandemic isn't over – make sure to wear your mask when you go see the show – "Peter" gives audiences a break from worries over booster shots and breakthrough cases that are part of our everyday lives.
The play gives audiences permission to reach out, like Molly, to try to catch a star. 
The duo of juniors Anjelica Soto and Candice Brennan play Molly, the title's starcatcher. 
"(Molly) is unlike any character I have played before," Soto said, of the adventurous  character complete with an English accent. 
Like her character Molly, for Brennan, being on the stage, is the fulfillment of a dream. 
"I'm glad that I get to fulfil a dream of mine to finally be a lead in a high school production, as corny as it may sound," Brennan said. "But it's also a big responsibility knowing that I have to be on my P's and Q's about rehearsal, memorization, et cetera." 
For Marian stage veteran J Van Beest, getting back to performing in a post-pandemic world is a reward unto itself. 
"I love it so much," Beest said. "I have so much fun on stage."
Tickets for the fall play can be purchased here: Marian Catholic High School Presents: Peter and the Starcatcher – Events (onthestage.tickets)