Expansion of E(sports)
Esports Mania Makes Its Way To Marian Catholic
By Matthew Peters
Esports or Electronic sports is a popular new type of competition being watched and regarded like "regular" sports (i.e. basketball or football) yet played in a different type of manner. It can be played in similar stadiums.
How popular are Esports today?
It's grown beyond midnight sessions in the basement to primetime specials on ESPN.
Three years ago, Esports Stadium – all 100,000 square feet of it – opened in Arlington, Tx. as an arena dedicated just to gaming tournaments. It is the largest arena of its kind in North America. Well, at least, for now.
Plans continue to be discussed to construct a $30 million, 108,000 sq. ft. venue on Chicago's South Side.
Along with the rise of places to hold tournaments, the level of prize money also has steadily risen.
Whether it's from signing with a team such as Faze Clan, winning a tournament, or even just streaming on a platform like Twitch, it pays to play.
Turnso Gaming, the top Esports team of 2020, earned nearly $2.5 million in prize money according to esportsearnings.com.
As its popularity has grown, high schools like Marian Catholic have started integrating Esports into their activities forming teams and joining competitive leagues. 
The Spartan Varsity Overwatch Team includes Connor Bailey, Jonathan Bolton, Jarell Burston, Max Cash, Jordan Perdue and Antonio Soto. 
This humble writer also has competed as an alternative for the team.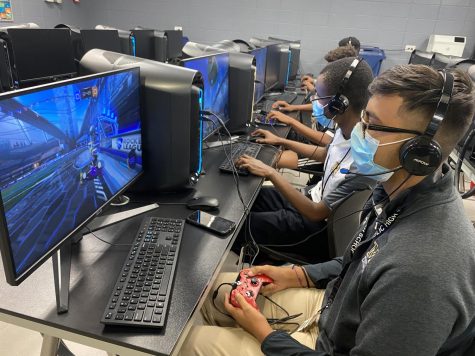 The team plays most Wednesdays and Thursdays after school. Currently, the team is participating in the Fall tournament. Overwatch is rated "T" for teens. 
On Oct. 13, the Overwatch Varsity Team swept Shelbyville High School 3-0 in a best of five games tournament.  
Key to the formation of the Spartan Esports Team has been the work of the group's faculty adviser, Mr. Carlson. 
While the team may be different from those found in other sports, Carlson said, these students see themselves as competitors. 
"There are several differences when it comes to comparing eSports to traditional sports. Some of the differences are the type of audience, rules tend to change very frequently due to game upgrades and league rules," Carlson said in reply to emailed questions. "Game settings set the rules so a referee is not needed."
And, since they can be played remotely by individual team members, Esports are less likely to be canceled or rescheduled due to the Covid-19 pandemic, when compared to other sports. 
Marian Catholic competes in the ISHEA league. 
Along with the excitement of competition, Carlson said through scholarships that colleges and universities have begun actively scouting players for their schools.
The fact that Esports is available here, Carlson said, is a credit to the school having vision for the future.
"A huge 'Thank you' should go out to [School President] Vince Krydynski, Colleen Peabody, [Principal'] Steve Tortorello, Curt Schubert and Kevin Kelly for making eSports possible at Marian Catholic," Carlson said. 
In their debut year, students will compete in tournaments featuring Overwatch, Rocket League, League of Legends, Super Smash Bros., Valorant and Fortnite.