Senior Spartan Sara Serves, Spikes and Sets The Tone
The Marian Central Catholic Hurricanes got served… and then spiked as the Spartans surged to victory #15. With the Oct. 19 win, our Spartan volleyball team earned a .500 record of 15-15 after their win against Central thanks in great part to a hard-hitting senior.  
Team Captain Sara Johnson led the team with nine kills at Marian Central Catholic, just as Johnson has throughout this season and throughout her time in a Spartan uniform.
From the start, this volleyball player has been exceptional. In fact, she's been a beast.
Johnson played on junior varsity (JV) her freshman year and was moved up to varsity in her sophomore year. She has been playing with them ever since. 
On the court, this beast has racked up kills and saves in each game they've played. 
So, how does she prepare for a game?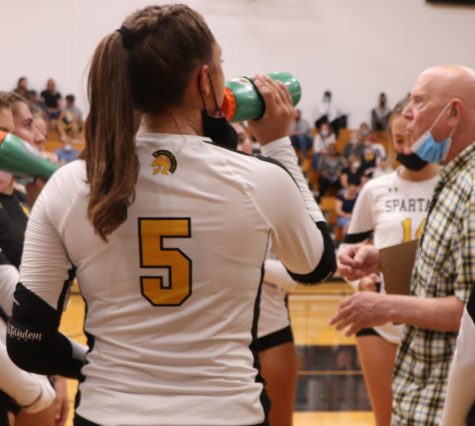 Well normally, Johnson goes out to eat with friends and teammates before the game in order to get energy. Then they go and watch the JV team play their first set to show them support. After that, they head to the locker room and have what they call a "pregame." They play their favorite hype music. The last song they listen to is their team song: "Topanga" by Trippie Redd. 
When it comes to away games, the physical prep is the same, but the mental preparation is completely different. There's no crowd support. Instead there is cheering against them. It's of little use to this beast. Johnson says that her team "thrives" and "feeds off" the energy of their student section and the people who come to support them. 
"We have been blessed to have incredible support from other teams, like soccer and football, this season," Johnson said. "I know my teammates and I are really thankful for all of the people who have come out to support us this season." 
Team Co-Captain Erica Sledge, the Spartan's main setter, said both she and Johnson have helped each other throughout the season. The two have pushed each other during practices and in games.
Sledge said she's been "very fortunate to have the opportunity to sit down and go through film with the girls this season." 
Film days are when the team sits down and watches film of other teams playing volleyball. They analyze the other team's players. Seasoned players like Johnson and Sledge make sure to use these days to their advantage.
Sledge also credits their work with Coach Panitch with letting them know that they can rely "on any person on the court or on the bench to help call out shots and be involved in the game." 
Junior Mila Popovic, the libero on Varsity since her freshman year, has played with Johnson for the past three seasons. 
Watching both of them play, it is clear that they bounce off of each other working extremely well together. Since Popovic is younger, it is a partnership she's happy to have.    
"I look up to Sara's hard work and drive on the court," Popovic said. "(Johnson) is constantly looking for ways for her and the team to improve and succeed."
Next year, when Johnson and Sledge graduate, Popovic will have to fill that void. 
"Next year, I hope to implement her leadership skills,"  Popovic said. "She has always been a helping hand to everyone on the team and is never afraid to speak her mind,"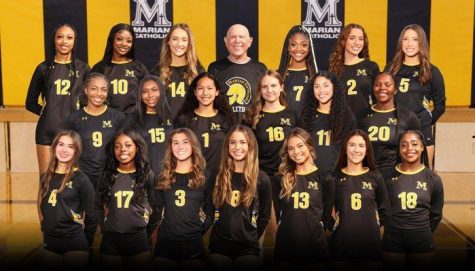 Even after Johnson graduates, her impact on the team will still be felt. 
Off the volleyball court, Johnson is active in student council, the One Day at a Time club, golf, and managing the men's volleyball team. 
During her junior year, volleyball season was pushed back to Spring due to the Covid-19 pandemic, giving her the opportunity to play on the varsity golf team. And in her sophomore year, Johnson was able to manage the men's volleyball team when her brother played as a senior. Johnson said she hopes to have that opportunity again this year. 
In her free time, Johnson likes to hang out with her friends or family since she knows her time with them is limited, as she's going off to college soon. 
Of course, this Spartan's ultimate goal after Marian Catholic is to play all four years in college, and to push herself to be the best player she can be. When Johnson's older, she hopes to be able to share her skills and what she knows through coaching or volunteering.
When it comes to young players, Johnson said she has some advice. 
"Keep pursuing the sport," Johnson said. "Have fun, practice with a purpose, and [don't] be afraid to ask for help. Becoming good at anything… takes lots of hard work and dedication." 
It doesn't hurt being a beast.