Generation Green Is Growing
Club planning and planting seeds for a greener future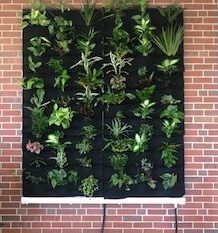 By Nikko Valdez
Many people have noticed the new greenery right next to Third Hall. 
This new addition of foliage is the school's new Living Wall. It is made of fully biodegradable materials and is designed to house most types of plants. The reason the Living Wall was created is all thanks to Generation Green. 
Generation Green is a great club for anyone who wants to make new friends while helping to save Planet Earth.
Club President Tommy Walsh said the group wanted the wall to "make sure the school was not all just concrete and bricks."
The way the club was able to go about making the Living Wall a reality began during November of last year. The idea for adding greenery to the school was being played with and the club chose the Living Wall as their next project. They visited Ted's Greenhouse in Tinley Park to see exactly how it could be done. The club was taught how to take care of a living wall and how it could be maintained for many years. Then with a little planning and some hard work they were able to turn their dream into a reality. Now because of their hard work and community service the student body has something beautiful to walk by and see on their way to classes.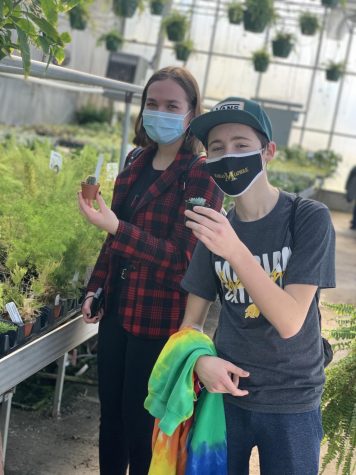 Another amazing project that Generation Green is working on is making Marian Catholic high school into a Green Ribbon School. A Green Ribbon is an award given by the U.S. Department of Education for schools that "reduce environmental impact and costs, improve the health and wellness of schools, students, staff, and provide effective environmental and sustainability education" 
The club is pursuing this award in a few ways. They plan on making a few changes to Marian Catholic lunch like using more biodegradable containers for food and using silverware instead of plastic flatware. The club also has plans for the courtyard in between the first and second hall. They are still workshopping ideas about what to do, but because of their new found space, they are happy to have new applicants. 
When asked about what he would say about people wanting to go to a Generation Green meeting, but are maybe second guessing themselves; Tommy Walsh said,
"I would say just stop by and come to one of our meetings during community period. Our club is not binding and if you just give it a shot you can see what we are doing. You get to have a direct say in many of the projects at our school. The plant wall came from the people of the club and not just the administration. All of our ideas come from students," Walsh said. "If you show up you might be able to give us an idea for our next big project." 
So if you are ever wondering about how to spend one of your community period blocks then go on over to Generation Green to see what they are working on next or maybe give them one of your ideas on how to make Marian Catholic a better, more natural place.