Megaphone Memories
Remembering A Time When We Wanted "Normal"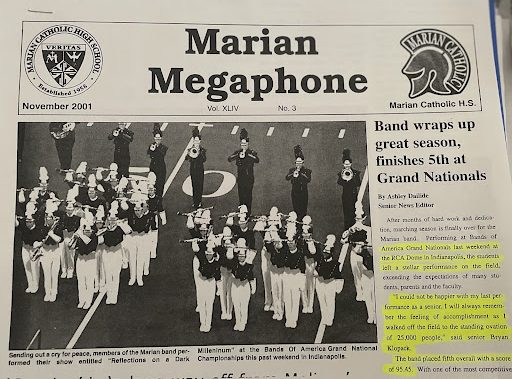 By Clarke Stalling
Twenty years ago this month, before the Class of 2022 was born, America was still emerging from an unexpected event.
From coast to coast, the country stayed home to try to recover, including students and staff at Marian Catholic High School.  
The October and November 2021 issues of The Marian Megaphone, the school newspaper, documented the community's hope to return to normalcy, much like today.
On September 11, 2001 the world was shaken by a tragedy in New York City. It was a terrorist attack aimed at four different places in the U.S., including The World Trade Center, also known as the Twin Towers and the Pentagon, in Washington DC. America was shaken and put life on hold. That day became one of the biggest historical events in modern history.
It should be no surprise that it affected high schools like Marian Catholic, of which many temporarily cancelled classes. It was a moment that American patriotism was at its height. The Pledge of Allegiance, the Star-Spangled Banner was sung with more passion than ever before.
In 2019, at a time when their was no school newspaper, Marian Catholic still felt the fallout of Sept. 11. Before an Oct. 2019 football game, a ceremony was held to honor Class of 1981 alum, Navy Lieutenant Commander Patrick Murphy, who was killed when a plane hit the Pentagon. Murphy was one of nearly 3,000 people killed during the attacks. A flag that had been flown over the US Capitol was raised prior to the game.
Fast forward to the present, back to our world recently put on pause. 
Like terrorism had 20 years early, coronavirus shut down schools. We thought it would be for two week. It turned out to last much longer. More than 750,000 Americans have died from Covid-19. 
Speaking of long standing traditions, The Megaphone of Nov. 2001 congratulated the Marian Catholic band on their recent success of their show entitled "Reflections on a Dark Millennium." 
In 2001, the band placed 2nd in their state competition before they placed 5th overall with a score of 95.45 in the America Grand Nationals in Indianapolis. Again this year, the band placed 2nd in state and heads to Grand Nationals this weekend.
To perform at nationals after such a tragedy 20 years ago, one student told the Megaphone about the feeling of performing with more of their heart than ever before. The tragedy of 9-11 changed how Americans saw themselves but even it couldn't destroy the excellence of the Marian Catholic Marching Band.
"I could not be happier with my last performance as a senior," said now Class of 2002 alum Bryan Klopach. "I will always remember the feeling of accomplishment as I walked off the field to the standing ovation of 25,000 people."
As we hopefully near the end of the coronavirus pandemic, one can only hope we will remember to appreciate life at school and celebrate the annual success of the band, something we take for granted as "normal."