Service Club Wants You To "Give A Little"
Current Campaign To Help Homeless Students, Seniors in Need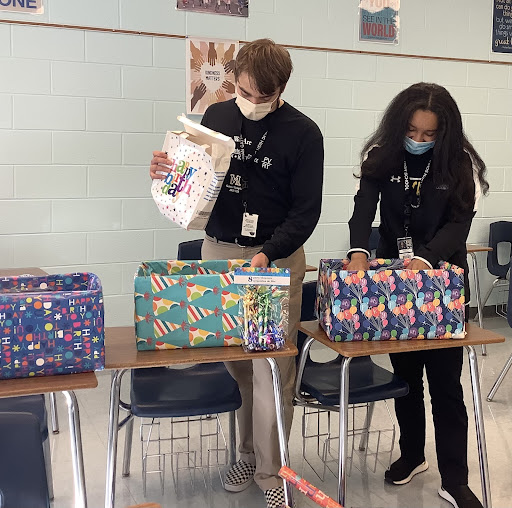 By Iris Fé
For many homeless kids around Chicago Heights, a birthday is nothing to celebrate. It's just another day of struggling to survive.
But now there's a chance to help bring out smiles on their special day, if all of us, "Give a Little." 
About 50,000 students in Illinois were homeless as of 2020 according to the Illinois State Board of Education. Those students in the neighborhoods around Marian Catholic may have a reason to celebrate thanks to the Marian Catholic Service Club's "Give a Little, Help a Lot." 
Through November 12, the Service Club is asking for donations to make birthday boxes for kids without homes and special packages for seniors. 
More than six million people in the US have Alzheimer's Disease, which is a form of dementia.
Another part of the "Give a Little, Help a Lot," campaign is to bring joy to those suffering from dementia. Fidget blankets with buttons or zippers would be welcomed.
Donations are accepted in the boxes in Dominican Way Room 136 or at the Main Office. 
Discovery in Service faculty advisor Mrs. Iggins said students are working with South Suburban PADS to make a difference in the community.
"Tablecloth, plates, small toys and candy," Iggins said are among the items be sought.
Still not quite sure what to give? 
The Amazon link at the bottom of the article sends you to the list for the materials needed for birthday boxes.
https:// www.amazon.com/hz/wishlist/ls/2Y6POUCTSKACP?ref_=wl_share