Will ' The Crocalypse' Continue In 2022?
Formerly forgotten shoes rise like a phoenix of footwear
We've done the math.
We've run the statistics – in Mr. Becvar's classroom – where else.
Now, it's prediction time.
It's hard to disagree with the visual evidence that 2021 was the year of the Crocalypse at Marian Catholic.
These one ridiculed rubber slippers suddenly surged to the top – or is it the bottom? – of essential footwear at school.
Don't believe it? Just look down.
In a matter of minutes, it's easy to see one Crocs, two Crocs, pink Crocs. blue Crocs. And then there are the bright yellow ones. And the rubber rainbow swirl ones. And some with Jibbitz – those charm things.
The success of Crocs can be measured in sales. According to the Web site, footwearnews.com, in a previous interview "Crocs CEO Andrew Rees said the brand is focused on attracting the type of consumer he calls the 'explorer,' who is characterized by being young, expressive, self-confident, active on social media, and generally, though not exclusively, female."
The Web site credits collaborations on Tik Tok and Instagram between the shoe company and unlike partners like Benefit Cosmetics, Justin Bieber and Hidden Valley Ranch.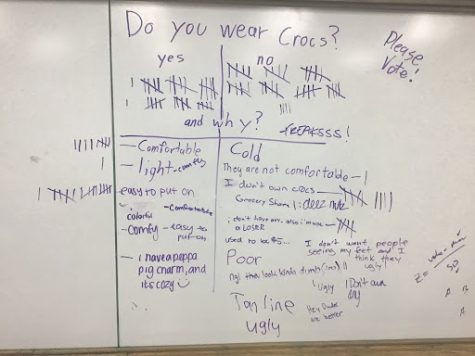 In a kind of scientific poll, in which The Spartan Star sampled responses, we began to check in with all Mr. Becvar's classes to gauge whether this trend at foot over the past year might continue into 2022. 
Of those we connected with, 32 students told us that they wore Crocs for their comfort and convenience.
According to students, the case against Crocs is their price. The shoes sell for somewhere between $50 to $75.  And that's for shoes with holes already in them.
In addition to price, anti-Crocs students – or Never Crocsers – view the shoes as ugly.
Based on student polling, the year of the Crocalypse might end in 2022. A majority of students,  56% of students said they were against the Crocs trend while 44% in favor of Crocs. So the evidence says Crocs most likely will become a more regular occurrence in the short term but those numbers will likely decline. 
True, the future will tell us how long Crocs stay popular, there's nothing wrong with some speculation.