Spartans Men's Basketball Starts Season With Early Wins
The Spartans 6-4 record includes big wins over rivals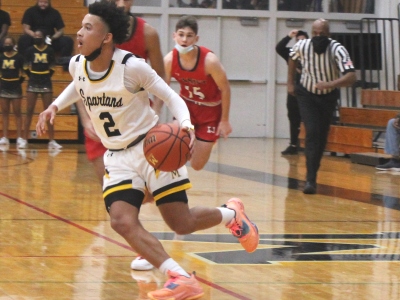 At the start of the year, the Marian Catholic Men's Basketball team dominated. 
The hoop squad sprinted to the top of the East Suburban Catholic Conference (ESCC). And they remain the team to try to beat. 
Lately, it hasn't been as difficult. 
On Wednesday, the Spartans lost a close non-conference game to Tinley Park, 52-49. 
According to the team's Web site, the team's shooting grew cold against the Titans, only splashing in one of 10 from 3-point land. 
Senior guard Jeremiah Jones and junior forward Quentin Jones led the team with 12 points and six rebounds each.
As of this today, the team has earned a 6-4 record with wins over rivals Homewood-Flossmoor, Marist and Marian Central. 
At times, the team's Big 3 is made up of each Jones, along with either junior guard Tre Davis or senior guard Joshua Lawson. Both Davis and Lawson rank among the top 10 scorers in the conference.  
The initial hot start has been in pursuit of the singular focus stated by their coach. 
"My expectation for this [team], for us, is to give our all when we possibly can," said Head Coach Mike Taylor.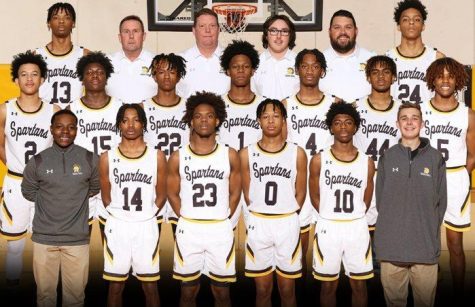 The 2021-22 Spartan Mens Varsity Basketball Team.
So far, their "all" took them to the championship game of the Chicago Heights Classic tournament earlier this season. After stacking up a three-game win streak, the Spartans lost the title game, 51-49 to Hillcrest. 
The team's most recent victory was a 53-49 victory Dec. 10 over Carmel Catholic. This keeps them firmly in first place in the ESCC.
To stay in first, the Spartans will need to dominate in two upcoming stretches over the Christmas break at both the Bloom Buzz Invite and the Immaculate Conception invitational. 
The team's first time back on home court in 2022 will be versus St. Viator on Jan. 4 and against T-F South, Jan.5.
The Spartans two big home games after the Christmas break are Jan. 13 versus Benet Academy and Jan. 19 against Homewood-Flossmoor.