Only Older Harry Fans Best Fit for Style(s) of 'Don't Worry Darling'
Harry Pulls a Houdini and Disappears Behind Pugh's Performance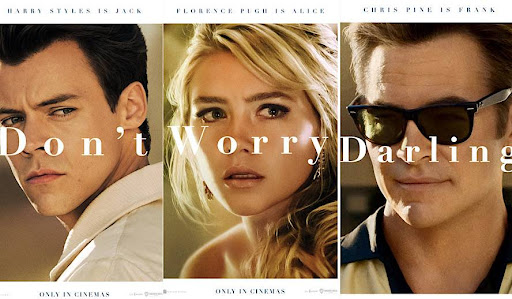 Probably a lot of people went to movie theaters to see Don't Worry Darling because of Harry Styles.
Harry Styles, who recently played a concert at the United Center in Chicago, was used a lot in the promotion of this psychological thriller/horror movie. But Harry wasn't the main focus of the movie, one of the many surprises in the film.
Styles doesn't nearly have as much screen time as the film's star, the singer/actress Florence Pugh. Still, several Hollywood reports state Styles was paid more than Pugh, which just isn't fair since she carries the story. If true, it certainly makes the movie's message incredibly ironic.
Don't Worry Darling is rated R. Students under 17 (sophomores, freshmen) would need to be accompanied by a parent to see Harry or have a parent buy the ticket for you. The rating is warranted. The movie has scenes best suited for mature audiences. I wouldn't recommend it for younger fans of Harry Styles. They'd be better off sticking to YouTube videos. 
When I went to see the movie, I was accompanied by my mother. We were in a completely empty theater, because of this I went towards the front instead of sitting in the back row with her. 
I had seen the trailer and so many TikToks about some scenes in the movie, I knew I didn't want to be near her. I was definitely not going to sit through the awkwardness.
If you wish to save yourself from the awkwardness of sitting with your parents while watching it, I'd say go with your friends.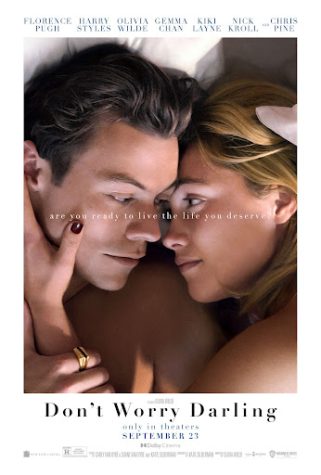 Styles and Pugh play Jack and Alice, a perfect couple living in a utopian society where things aren't as they seem. 
An award-winning actress, Pugh's performance holds the film together. Her body language gives you the eerie feeling that something terrible is going on, which is exactly what it needed. You sense that this suburban utopia is really a dystopia.
By contrast, her co-star has set off a backlash for his acting abilities. Or lack of acting abilities.
I think film critics have been a bit too hard on Harry. 
Styles doesn't do a terrible job. Harry's performance is… decent but may have been downplayed because of who he's acting next to for most of the film. 
Chris Pine, who plays Frank, also does a terrific job with his role. I would have loved to see Frank's character better developed and take on a larger role in the story. 
The story is set in the 1950s. Women are housewives. The men go out every day to work on a Top-Secret project. The women must abide by one rule: Don't go outside of the town. 
Yet, Alice, of course, gets suspicious. 
While the first half of the movie creeps by slowly, the second half moves at a faster pace.
Beyond the story, the cinematography is truly something to be marveled. The town is surrounded by a vast desert which provides a great background in scenes. The whole movie – not just Harry – was visually pleasing. 
Don't Worry Darling is expected to be available for streaming in November or early December on HBO/Max. 
I would give Don't Worry Darling 7 out of 10 Spartan Stars.