2022 Saw More Giving, More Teachers at Marian
Holiday Food Drive returns after pandemic hiatus
Life at Marian Catholic has been full of changes so far during the '22 portion of the 2022-2023 academic year. 
Here are two major areas worthy of attention that experienced growth since late August.
Increased volunteering 
One of the pillars that Marian Catholic is founded on is Community. One way that students and staff have created a sense of community has been through volunteering.  
Each year, students are encouraged to donate their time not only around the school but within the community as well. This year, more students than ever demonstrated the pillar of community.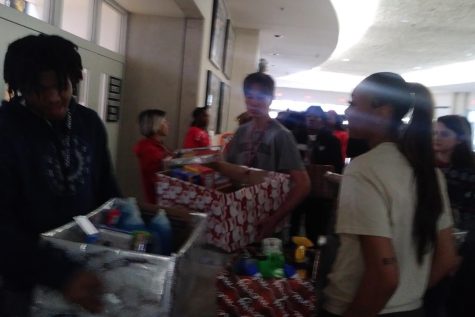 Most notably, the Emmaus Holiday Food Drive was a huge success. The food drive, which had taken place in previous school years, was interrupted during the last two years due to Covid-19 concerns. 
In late November, a time when most give thanks for being blessed in ways large and small, students were asked to donate perishable, non-perishable, household items and toys to families identified by Respond Now. Respond Now is a charity based in Chicago Heights that provides vital services to those in need.
Through the work of the Student Council Executive Board and advisors Mrs. Wallace and Mr. Lachcik, Emmaus classes were able to help make the holidays happier for over 30 families. 
Also, this holiday season, a Marian junior helped to jump start a coat drive through a student club. 
Junior Lauren Richardson made fliers and held meetings to ignite interest in the Helping Hands Coat Drive. Richardson said her goal for the drive was to make Christmas warmer for people in need. 
"Many of us at Marian are fortunate enough to be able to give back and give people an essential that Helping Hands believes everyone should have. This season is about giving, and we will do just that," Richardson said. 
Members of the Marian community can still donate coats in the cardboard bins around the school through the last day of Finals next Tuesday. 
Then, there are the everyday works of service that happen outside of any spotlight. These are the instances in which students demonstrate the four pillars of Dominican life which are seeking truth, exhibiting personal responsibility, cultivating individual talents, and demonstrating ethical leadership and Christian service. 
Students were able to nominate students and staff members who they felt deserved distinction. 
Each month, four students and one staff member were recognized in front of the entire school.
The following students were recognized:
-Xavier Buford
-Peter Cavalieri
-Tariq Cotton
-Jayla Davis 
-Ariana Espinosa
-Hannah LeCocq
-Tommy Walsh 
-Helen Mulugetta 
-Braylon Bailey
-Aniyah Maxey 
-Lauren Richardson
Increased staffing 
Marian welcomed more than 12 teachers and staff members to the school over the summer, a dramatic increase compared to prior years.
The department where most of the new faces can be found is theology. Four teachers were welcomed to Dominican Way including Mrs. Morgan, Mrs. Mullins, Mrs. Benas, and Mr. Filipiak.
Also joining Marian Catholic was new Dean of Student Life, Mr. Crossley. Crossley also became the assistant men's basketball Coach as well as the head track coach. Crossley brought a philosophy of solving potential problems by meeting the individual needs of students first.
Two notable alums returned to Marian as educators this year: Ms. Van Beest in the English Department and Mr. Turner, as the new assistant music director. 
Ms. Van Beest will serve as the new faculty advisor to Crossroads, a student literary magazine currently being planned to debut later this year.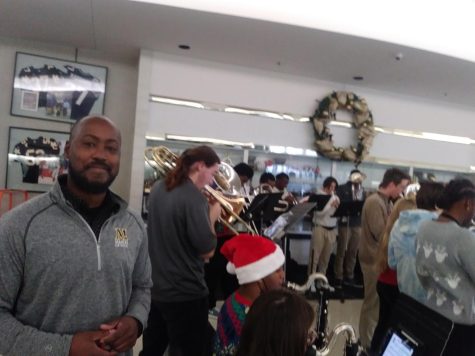 Mr. Turner's return to Marian has received praise from students in the band who nominated and voted him as a distinguished educator earlier this year. 
Turner told The Spartan Star that he wasn't expecting individual attention.
"I was legitimately surprised," Turner said. "It was nice to know that I was doing something right in the eyes of students.