Saturday Night Lights: The Illini and the BIG10
Eight Weeks In, the Best are in the Midwest
This week, our College Football critic, who comes from a family that bleeds Maize and Blue, admits there are other notable teams in Big10 and wonders if a new SEC school is at the Rocky Top of Division I play.
The mood down First Hall, in Room 116, might be even more upbeat than usual this time of year. 
If not, just remind statistics teacher Mr. Becvar about the number of victories that a certain team in Champaign have posted this season.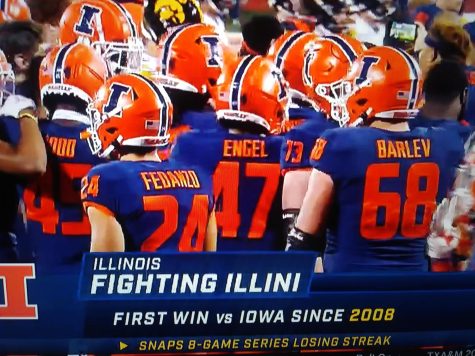 Illinois
Surprisingly, the University of Illinois, the Fighting Illini, are doing amazing with a 6-1 with just one loss to a great Indiana team by 3 points. U of I have marquee wins against Virginia, over Wisconsin at Camp Randall, and then Iowa. Just weeks ago, Orange Crush snuck into the Top 25 AP College rankings at the Number 24 spot. After a win over Minnesota, the Illini jumped up to No. 18. Amazingly, in the Big10 the Illini were the first to post a 3-1 conference record.
Beyond the excitement around the team, the Illini control their own destiny in route to a bowl game, or even more.  
Mr. Becvar goes to almost every home Illini game. 
Recently, Becvar talked across the hall to Dr. Rousseau, who teaches English and is a University of Illinois alumna, about this squad of players. Both expressed their excitement over this team.
Becvar said the atmosphere in the stadium on Saturdays this season has been "electric."  
Although Becvar said he doesn't believe that Illinois will make it to the College Football Playoff, he said he believes that they could challenge for a spot to make the Big10 Championship Game. 
Credit for the Illini's turnaround, Becvar said, has to go to Illinois Head Coach Bret Bielema for changing the environment in Champaign. Bielema replaced previous Illini football coach Lovie Smith.  Smith, who led the Chicago Bears to their last Super Bowl back in 2006, is now the head coach of the Houston Texans, who technically play in the NFL. Despite his resume, it didn't translate into wins at U of I. 
Mr. Becvar said he felt Smith wasn't cut out for the college level but was really adept at recruiting players and bringing a winning attitude to Illinois. 
In 2020, Bielema replaced Smith. Now, in his second year, Bielema is showing results few thought were ever possible. 
With five games left, there remains only one true challenge in the way of the Illini and Big10 West glory, Michigan who is currently ranked fourth in the nation and is undefeated. To ever retain hope of a playoff push the Illini will have to muster up all the will they have to push past the Wolverines and most likely afterward, have to face Ohio State or Wolverines again. 
Is it plausible? It is very much so. 
But for now, Illinois is just reveling in the feeling of winning, waiting to see where the rest of this season takes them.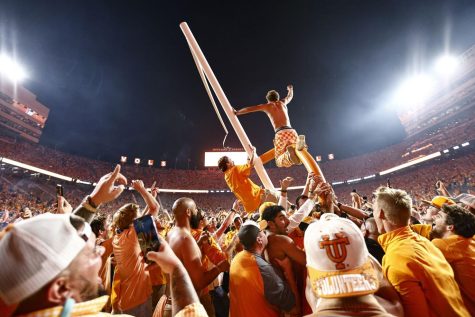 Tennessee
Another surprising team of the year is Tennessee. 
Seemingly coming out of nowhere, the Volunteers have somehow snuck their way into the top flights of the SEC, AP Poll, and College Football Playoff conversation.
Tennessee started the year at No. 24 and since worked their way up, beating Ball State, then Pitt moving up to 15. After defeating Akron, the team climbed the mountain to No. 11.
A win over Florida and they moved up to No. 8.  A win LSU put the Vols at No. 6, where they stood prior to the big game vs. Alabama, the seemingly perennial No. 1 ranked team.  If they could beat 'Bama, they'd be taken seriously. And then they did in one of the best games, so far, of the year.
Again, here SEC bias appears in helping Tennessee jump both Clemson and Michigan, each undefeated, get to the No. 3 position.
Due to that massive win their quarterback Herndon Hooker has appeared as a standout and so far, a new favorite to win the Heisman. Hooker played amazingly against 'Bama putting up 385 passing yards, only one interception, and five touchdowns, all to his main target and star receiver Jalin Hyatt. Needless to say, the old Tennessee that dominated with legendary QB and TV personality Peyton Manning might just be back and thirsty for a chance at the national title.
This is the Volunteers first 7-0 start since winning the National Championship way back in 1998.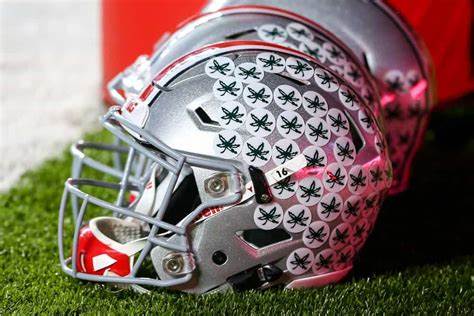 Ohio State
Throughout this whole season, as much as it pains me to say, Ohio State has outright been the strongest and best team in college football.
There have been zero close calls and all of the games they've played have been easy wins. They look dominant and should be the number one team in the nation outright. 
On Saturday, the Buckeyes destroyed Iowa 54-10. 
But as we all know SEC bias will always be a thing, if you don't know what that means allow me to explain. 
The SEC aka South-Eastern Conference is notorious for having 2-3 good teams every year that are loved by the press because most journalists have Southern roots. And thus, since they are the ones that influence the polls, the SEC are given favorable spots in the polls over teams let's say in the BIG10, which – at least this year – is more competitive than the SEC and overall, just tougher to play. 
Anyway, Ohio State destroyed Rutgers and Michigan State placing them at 2nd after former Number 1 Alabama barely scraped by Texas A&M, and then the following week fell to Number 6 Tennessee.